History of ASU Law: 50 Years of Impact
G. Homer Durham was the president of Arizona State University from 1960 to 1969. Establishing a law school was one of his goals and in 1965 he hired Willard H. Pedrick as the first dean. In 1967, the ASU College of Law accepted 117 students into the inaugural class located on ASU's Tempe campus. And three years later in 1970, 83 students graduated receiving their juris doctorate degree from the ASU College of Law.
The law school has accomplished many significant milestones in its 50+ years. In 2006, soon after her retirement from the U.S. Supreme Court, ASU College of Law was renamed the Sandra Day O'Connor College of Law at Arizona State University. Students continue to personify Justice O'Connor's legacy and lifetime work to advance civics education and civic engagement and discourse, by donating more than 120,000 hours of public service each year.
Led by former Dean Douglas Sylvester, who was appointed the eighth dean in 2012, ASU Law rose in national and world rankings, continued to attract highly credentialed students and offers more personalized programs than any other law school in the country. The youngest law school in top 25, ASU Law is currently ranked No. 25 by U.S. News & World Report.
Media Folder:
In 2016, ASU Law moved to the Beus Center for Law and Society in the ASU downtown Phoenix campus further enhancing the law school's ability to serve the community and provide students access to the best legal opportunities. Students can also study beyond Phoenix at ASU campuses located in Washington, D.C. and Los Angeles, as well as participate in global study abroad and externship or internship opportunities.
Throughout 2021, we will celebrate 50 years of impact through unique events, sharing stories from the past, historical footage from our archives – capped off with an event fit for the history books, our Gold 'n Gala in Nov. 2021.
Walk Through ASU Law's History
2021 Gold 'n Gavel Auction and Reception: 50 Years of Global Impact
Friday, November 19, 2021 | 6 to 9 p.m.
BCLS Building, ASU Downtown Phoenix Campus
Learn more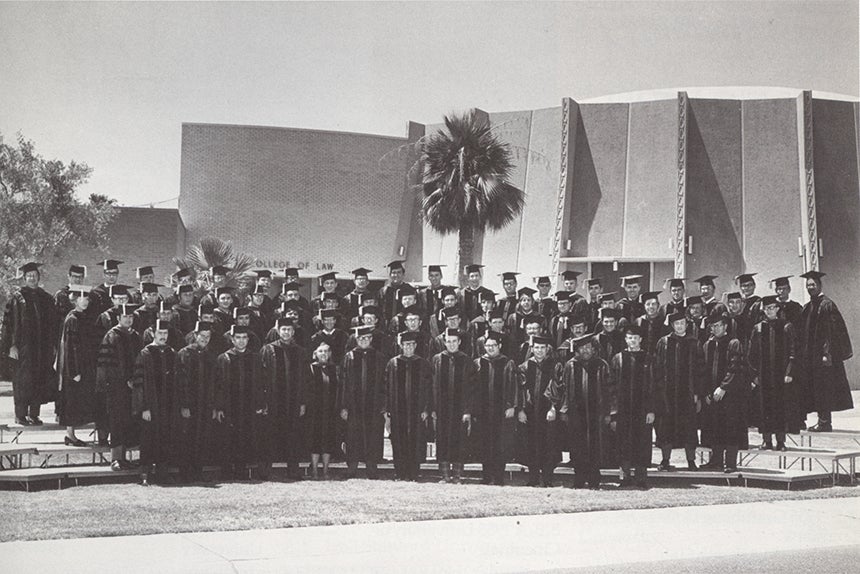 ASU Golden Reunion: Honoring the Class of 1970 and 1971
December 2021
Arizona State University | Tempe, Ariz.
Learn more
Law Forum Magazines
In 1977, the decade old Arizona State University College of Law had graduated about 1,000 students and thought it would be an appropriate time to start producing an alumni magazine. While all friends and family of the law school were welcome to read the magazine, the Arizona State Law Forum was principally designed for its alumni to share the latest ASU Law news, scholarly articles, law-review-type analyses, events and research. Over the course of 18 years, the Law Forum magazine shared news about the law building expansion and library addition, anniversary milestones, and the creation of new programs like the Indian Legal program in 1988, just to name a few. Click on the links below to read the digital version of each Law Forum magazine.

Law Forum Fall 1983
Law Forum Fall 1985
Law Forum Fall 1986
Law Forum Spring 1988
Law Forum Academic year 1991-1992
Law Forum: ASU Law's 25th Anniversary 1967-1992
Law Forum: Ross Blakely Law Library 1993
Law Forum Spring 1995
Law Forum Winter 1995
---
50 years of memories
Reminisce with memories submitted by past colleagues, faculty, administration and staff.
View memories
---
Submit your memory
Have a memory you want to share from your time at ASU Law? We want to hear from you!