ASU Law's amazing adjuncts: Raeesabbas (Raees) Mohamed
Adjunct professors play a critical role in ASU Law's success, bringing diverse backgrounds and professional experiences into the classrooms. Get to know these highly accomplished instructors, and why they have answered the call to teach, through this Q&A series, "ASU Law's amazing adjuncts."
This month, get to know Raeesabbas (Raees) Mohamed, a 2009 ASU Law graduate who took part in the Innovation Advancement Program legal clinic as a student and now serves as the clinic's director. He is also the founding partner of Scottsdale-based law firm RM Warner.
---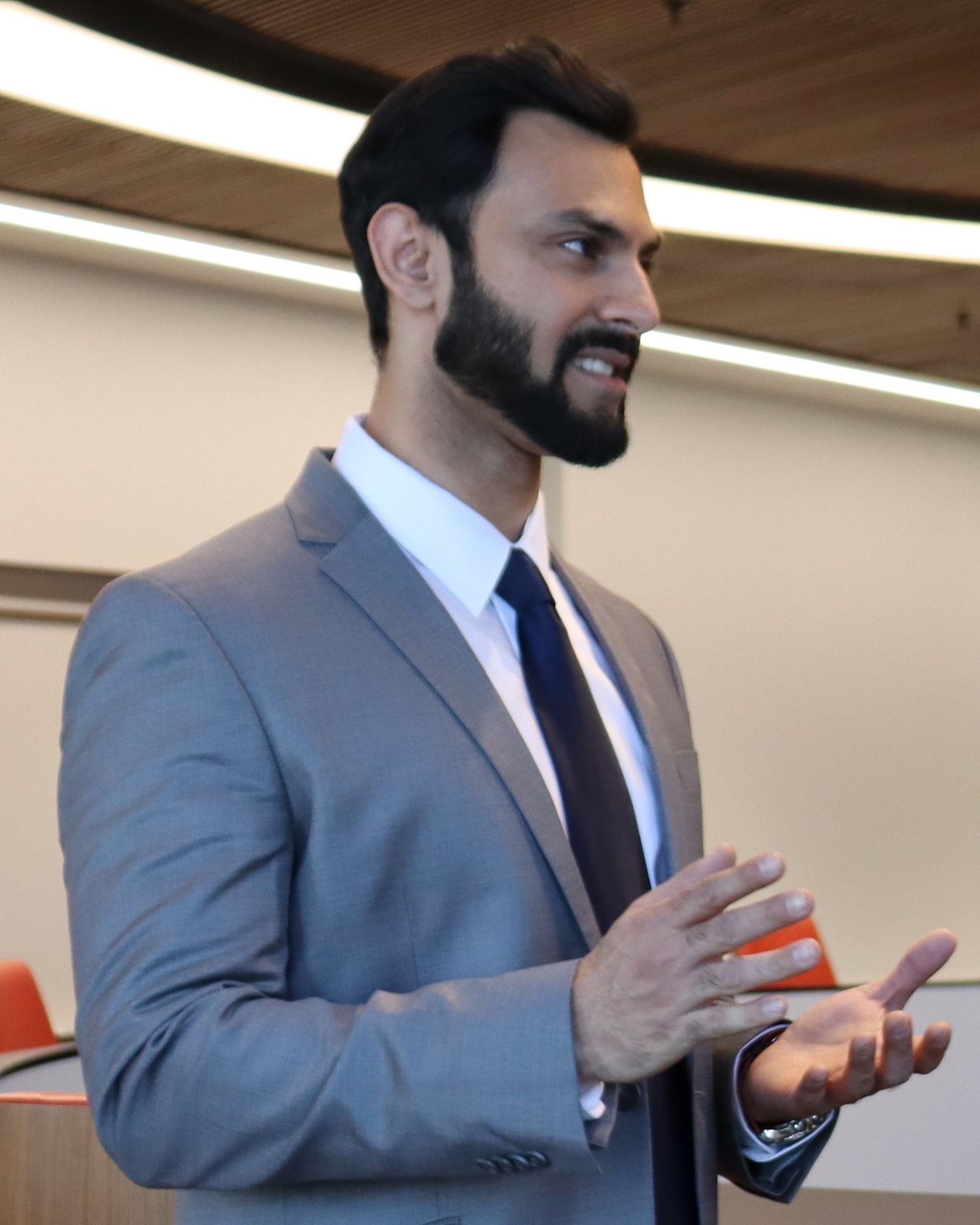 Raeesabbas (Raees) Mohamed
Founding Partner, RM Warner
Adjunct Faculty, ASU Law
Where are you from?
I am originally from Connecticut. And I'm practically an Arizona native, because I've lived in Arizona since 1996, and currently reside in Chandler, Arizona.
When did you start teaching at ASU?
I've been an adjunct for seven and a half years, and started teaching in the fall of 2012.
You were just a few years out of law school at that point. What motivated you to want to teach?
My first two years in practice taught me so much, because I was on my own -- I started my own law firm right out of law school. Those first two years, it was such a crash course for me that I really believed in the concept of students getting a crash course in a transactional clinic. When I was asked to step into this position as director of the Innovation Advancement Program, one of the main motivational factors was to make this as practice-oriented as possible, and make it difficult, so that students can come out with a similar experience to what I had. I was a student in the clinic as well, in 2007, and it gave me the real-life experience within the confines of a course that I was craving. Plus, I really wanted to keep my finger on the pulse of what's new, and what the cutting-edge issues are academically speaking, and there's no better way to do that than to be in a clinical environment at ASU Law, where interesting new issues are happening with early-stage companies.
As director of the clinic, what's the end goal for you in terms of what students learn or accomplish?
There's actually a few layers to this. The number one goal is to build technical competency in how to do transactional work. Technical competency means putting the textbook away, putting contracts class away, putting torts away, and actually engaging a client. It requires students to learn how to be diligent as a lawyer, think through issues, draft documents, and explain face-to-face with a client that their tangible solution is for a real client. That's the number one objective of the clinic.

I would say a close number two is, in addition to technical competency, conveying to students what it's like to practice law. What is it like to have a busy schedule, which all students do, and have deadlines, have competency requirements, have a client that you have to properly engage and disengage? You can't learn that without practicing law.

And number three, I would say, is to build confidence. Most of my students come in and they're a little leery. They don't really understand -- and they shouldn't, because they've never done it before -- how to explain work product or a technical principle to a client. But when they come to the clinic, I tell them, look, we're going in four phases. The first phase is awkward: the example I use is it's like puberty. And then, by the end of the fourth phase, I might not call you an expert, but you're super confident, because you've done this. You understand how to do it. And that's what we're doing. We're building competent future lawyers who have a finger on the pulse of working with early-stage companies, and can do it competently. That's kind of the hierarchy of objectives.
It seems like that would be a very rewarding experience to watch students make that transition. Is that part of what motivates you to want to make time for teaching?
Yes, 100% true. Every one of my students, I have maintained some sort of connection with, either in social media or LinkedIn, and it's amazing to see what they go on to do. When students first come to the clinic, they say, 'Raees, I've never done anything like this.' And my response is, 'Good, that's what I want to hear.' And then to take them through phase four, for round four of final deliverables, and to hear them speak so confidently, and then years later in practice, have them email me or message me on social media about how they put their skills to the test, is very rewarding.

Students will reach out and say 'I don't know if you remember me' -- and the answer is always yes -- but they'll say 'I really valued your clinic, I actually had a superior compliment me, on this skill,' or 'Hey, I just started my own practice.'

One of the things I always tell students that is a direct benefit of the clinic is, 'Look, if you ever have an inclination to go out on your own, either earlier or later on in your career, you're going to get a feel for what it's like.' It continues to propel me to see students achieve those objectives in the clinic and then years later, in some cases we're talking now seven years later, they might message me about something they learned and applied. So that's really satisfying.
What makes ASU Law such a special place?
I think the first thing is we have a really diverse student population. All of my students have such varying backgrounds. Some are from a hard-sciences field, some are right out of their undergrad program. Some of them were professionals in some other world, some of them were journalists. Some of them local, some of them from, you know, Texas, Ohio, Idaho, you name it, all across the country. We also strive to increase diversity in gender and ethnicity, which has been a challenge, particularly in technology and transactional work. And that presents a unique opportunity, because we've structured the clinic so that it's only 10 students, and it's a very intimate setting to be interacting with students and get to know them.

And there are so many valuable resources available at ASU Law.

We also have a large number of adjuncts, including myself, who are practitioners. Students thirst to understand what's beyond the wall, so they are getting what they desire. I think the law school does a really good job of presenting those opportunities, those beyond-the-walls opportunities, and the clinic is just one example of that.
What's your most important advice to future legal professionals?
The most important thing to keep in mind is that the legal landscape is changing. It's changing drastically. I think students need to be open to a wide variety of opportunities in the legal world. They might come in thinking a one-way trajectory: I'll get this clinic, I'll get this externship or internship, I'll take XYZ job after law school. I think the clinic opens students' eyes to the fact that you have so many more career opportunities today than 10 years ago. You need to really develop your skills. And you really need to sell yourself as much as you can across as many different career opportunities as you can. That would be my biggest piece of advice. In the clinic, we talk about these things. We talk about the Trojan horse and why we do what we do is to be a better lawyer, but also to be a better lawyer in so many different areas of practicing law that didn't even exist five years ago, or 10 years ago. So I think building better lawyers for sure, but also exploring more opportunities for career advancement.
What do you like to do in your free time? What should people know about you besides Raees the lawyer and Raees the adjunct professor?
I am a music buff. I've played guitar for 20 years. I play electric guitar, acoustic guitar, bass guitar, I play every genre you can think of, from blues, to metal, jazz, funk music. And I'm a home player -- I like to play at home and record. I've played with (ASU Law Professor) Charles Calleros before. I've jammed with him at his garage, and we played at a law school event once, back when I was a student. I am also an avid artist, I love to paint and draw. I do realism, so show me an object and I'll create the sketch version of it. That's a big part of keeping my sanity and maintaining composure. I'm also a big coffee connoisseur. Most of my students who know me know that I love trying different kinds of coffee, brewing my own coffee. I'm kind of a coffee altruist, if you will.
Talk a little bit about how this current pandemic crisis is affecting your professional life. What adjustments are you having to make at RM Warner?
We're a boutique firm, a staff of six, including a student intern. The impact has been that there's certainly a level of nervousness. It's probably common to all firms. But the one upside to my firm is from day one, we've been 100% cloud-based, so all of our tools, all of our scheduling, all of the documents, all of the video conferencing, chat features – everything -- you can open on any device anywhere in the world. And that has been a blessing, because as most of my clients know, I usually work from home. Commuting is a waste of time. If you ask people who know me, they know I view travel time as a waste of productivity. Anytime you're stuck in traffic banging your head against the glass, that's a productivity vacuum. I like to replace my travel time with going to the gym instead. So in one sense, it has underscored the importance of having a flexible work schedule, but also a flexible setup. You don't have to go to the office every day. You should do what personally works best for you, to do the best work that you can do. So that's something that I think may be a little different for us than other firms, large or small.
What impact is the current crisis having on the clinic?
I feel a sense of drag, sort of like somebody just tied a 50-pound lead ball to my students' ankles. Because many of them missed the in-person interactivity with clients, where we sit down, we hand them a document, we go through the document in person, we look the client in the eye, we get the nonverbal communication feedback that I'm always telling students to watch out for. That's depleted. There's a sense of a kind of early-stage, almost depression in their face. But then after you finish the meeting via Zoom, I can see that they're revived. Everybody gets to see each other. We discuss why this is a good time to be experiencing flexible options. And we kind of have a laugh about it, because you know, students have their laundry in the background, one student's kid is crying, somebody else's dog is barking. So it's just an opportunity to say, 'You know what? At the end of the day, we can still do our jobs and still do a bang-up job.' So, the main effect has just been that the mindset of the students has changed. It's been interesting. But there's also the reality check that students, particularly third-years are facing. I think they are particularly stressed out, because they need to meet their hour requirements, are experiencing a delay, and are thinking about bar exam preparation for a bar exam that may not even happen in July. But when you sign up to be a student practitioner, you have to be ready for the challenges that reality brings, including in unprecedented times like this. This is a reminder for everyone to really practice the idea of being prepared for anything, with the support of adjuncts who want the best for their students.
---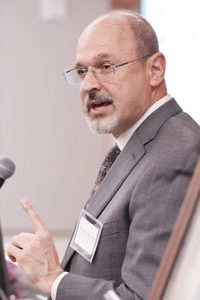 John Tuchi
United States District Judge, District of Arizona
Adjunct Professor of Law
Judge John Tuchi, '94, has been serving as a United States District Judge of the United States District Court for the District of Arizona since 2014. A 1994 ASU Law graduate, he worked as an associate for the Brown & Bain law firm from 1995 to 1998, then served as the Assistant United States Attorney for the District of Arizona from 1998 to 2014. He has been teaching as an ASU Law adjunct professor for two decades.
Where are you from?
I grew up in West Virginia.
How did you first wind up in Arizona?
My parents, who were both college professors, had moved to the University of Arizona in Tucson, and I was coming out to visit them while I was an undergrad at West Virginia University. I really liked it and had been working in my major during the summers in Tucson as an engineer and was offered a job to come out and also go to graduate school while I worked. And so that's what got me out here. I moved to the University of Arizona for a master's degree.
With your parents both being teachers, is that something you thought you might want to do someday?
I did, very much. I thought that's what I would wind up doing for a time. Even after I went to law school, I thought I might wind up teaching law.
When did you first start teaching at ASU Law, and what all have you taught?
The first time I taught, I taught the Business Associations I class; I think it was in 2000. After that, the associate dean at the time, George Schatzki, talked to me about teaching Professional Responsibility. I've taught Professional Responsibility about 11 or 12 times now.
You mentioned that you had considered teaching as a career and even thought about it after you went to law school. Did you ever envision being an adjunct?
I'm not sure that I envisioned it. I really didn't know that I had enough to offer the law school when I was first asked. But it actually is the best of both worlds. It suits my purposes very well, because it allows me to continue to do my day job, what I really like to do. But it still gives me all of the advantages and things that I thought I would like about teaching. Which is exposure to new people coming into the profession, the opportunity to help them in some way, to occasionally establish a longer-term mentoring relationship, and to see what the views are of the people who are coming in right now. So I get that, just in the evenings instead of during the day.
What do you hope to accomplish at the start of each course you teach?
For me, it is not necessarily memorization of material, although at some point, when you do things enough, when you get enough reps, you start to know the basic operating principles and some of the permutations by heart. It is far more that the students have developed the capacity to see the issues – and I'm speaking specifically about Professional Responsibility, because I've been doing it so long -- that the students would see the issues coming and would have a high capacity for identifying those issues before they're on top of them. That's sort of my priority.

Secondarily, I do believe that is one of the most important courses that students take in law school, because professional responsibility obligations and the law of lawyering overlays every other substantive and practice area. In other words, you have to be thinking about these things, along with whatever else you're doing, whether you're an employment lawyer or contract lawyer or a regulatory lawyer -- anything. And I also want them to think beyond the issues of professional responsibility, which is what you must do and what you must not do in the service of your client. But also what you should do and shouldn't do, just as a decent member, participant and representative of the legal profession.
You clerked for one of the founding faculty members of ASU Law, Judge William Canby, in the Ninth Circuit in the mid-1990s. Talk a little bit about that experience and what that has meant for your career.
Judge Canby tried very hard to give ASU Law graduates an opportunity to clerk on the Ninth Circuit. In each clerkship class, he frequently would take somebody from ASU, and I was lucky enough to be the person he selected for the '94-95 year. And even when he stopped formally teaching at the law school, he didn't stop the teaching function, because he continued to -- and still continues to -- write the nutshell on federal Indian law. I have the latest addition on my shelf right now.

And he was an excellent mentor and example for what a teacher should be. He viewed the law clerk position as an extension of the new lawyer's education. And it wasn't just a substantive education on all the areas of subject matters the federal courts have jurisdiction over, but it was also how to be a good person, how to be a good public servant, and how to be a good lawyer.

For me, that was one of the most formative experiences that I've had. And it stuck with me, and I think even when I left his chambers, even though I went into private practice for a time, I had a sense that based on my experience with him, I might like to do something in terms of public service later on, and I think it was one of the motivating factors for going to the U.S. Attorney's Office.
What makes ASU Law a special place?
Even though it's grown a lot -- the entering class sizes are consistently quite a bit bigger than when I was there -- it still has a level of familiarity where I think most of the faculty and administration know the students, and know them by name.

That was definitely true when I was there: Dick Morgan was the dean and he could identify any student by face, and not only put the name to it immediately, but what they were interested in and where they were focused. And that was an extraordinary circumstance that made everybody feel like they belonged. As a result, I and my fellow graduates from that time period have warm feelings of allegiance to the school. I think it's harder to do as the school gets bigger.

The more recent administrations have really focused on the external in terms of getting a new law school building, increasing fundraising for scholarships and professorships, and enhancing the reputation of the law school nationally as is reflected by the increased ranking at No. 24. But they haven't done it at the expense of losing that feeling of familiarity. I think that there's still a real high identity factor with the law school. The students that are there today, at least the students I talk to in my classes, really feel like they're part of something smaller and unique. And I think that's nothing but positive.
What's your most important advice to future legal professionals?
To keep an open mind and expose yourself to as many different experiences and areas of the law as possible, especially when you're still in school. Because it is a very rare person who believes that they know at the beginning of law school what they're going to be doing for the rest of the career and is right about that.

Most of us change our thrusts and our areas of focus several times during a legal career. So my advice is, there's nothing wrong with that. It's normal. And it's part of the reason that you are studying law. You have an intellectual curiosity and you have it about more than one thing. And that's one of the great things about the career of law -- it's very forgiving when people want to change and pursue different focuses simply because they want to learn about something else and get good at something else. And that's a very healthy thing to do over a career that could span, if you're lucky, 50 years or so.
People know you're a judge, and they know you're a professor at the law school. What else should they know about you? What do you like to do in your free time, if you have any?
Whatever free time I have now is focused almost exclusively on my family. The older my kids get, the more I realize that there's less and less time with them. One's out of the house now, and one is two years from graduating from high school and has every ambition to be someplace far away from Arizona, developing her skills in what she wants to do next. And so that's really the focus of the rest of my time now.

We're a theater family. Both of my kids are performers and are studying to advance that, so we see a lot of live performances of all types. And I think that there is a lot of connection between that -- seeing plays and shows and other expressions of creativity -- that informs, in my view, the practice of law. Because as formal as the practice is, in that it's rule-based, and it's statute-based and everything else, it's important to remember that at the base of all of that, our laws and our rules are meant to reflect the priorities and values of the people in our community, and what their wants are, and what their concerns are, and what their worries are. And I just described to you what most of the arts are. And particularly the performing arts, and plays, and musicals, and things like that are an expression of the thoughts, the values, the wants, the concerns and the worries of people.

So there is a real sort of cross-connect that brings the practice of law back to humanity just by going and sitting in the audience in a play and absorbing what the author and the actors are trying to tell you.
---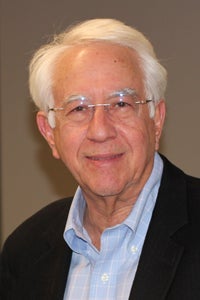 Bruce Meyerson
Adjunct Professor of Law; Fellow, Lodestar Mediation Clinic
Where are you from?
I've lived in Arizona since 1958. I'm originally from New York, but my parents retired here in 1958, so I have been here since then.
When did you first start teaching at ASU law?
35 years ago, when I was a judge on the Court of Appeals, so that would be around 1985. I taught a course in appellate advocacy. And then I taught a course in remedies. I've been teaching full time, every semester, since 2000.
What led you to want to add teaching to everything else that you were doing?
I've always been interested in public service. That's really been a significant part of my career, and in so many different ways. So the opportunity to contribute to the work of the law school and to assist students in some way was appealing to me.
You've taught arbitration, mediation, alternative dispute resolution, ADR and employment law. Is there anything else?
Well, those are the four courses I'm teaching right now – one a semester. So I teach one of those every semester, so every two years, we start all over again.
Your current rotation of classes includes arbitration, mediation, alternative dispute resolution, and alternative dispute resolution and employment law. Do you have a favorite subject as a teacher among those?
No, I really don't. Each course has its own challenges and its own features. There's certainly something about the work of mediation that is quite challenging. There's also something about arbitration that I find very interesting and intellectually challenging. So I'm not sure I couldn't I could pick one of those more than another.
There has been dramatic growth in alternative dispute resolution over the past few decades. Why do you think that is?
Mediation and arbitration have grown in their significance as part of our legal system. Arbitration because it has increasingly been incorporated in many contracts, largely due to decisions of the United States Supreme Court that favor arbitration. And they also have upheld the enforcement of what are called class-action waivers. Employers or financial services companies are able to require arbitration of their employees or customers and prohibit them from being part of the class action. From the employer or company perspective, that's very appealing. So we see more and more arbitration agreements and more and more class-action waivers.

And there's been significant growth in mediation, which became more prominent in the '80s. I think most people attribute the beginning of this movement to a speech that former Harvard Law Professor Frank Sander gave in the mid-70s, talking about the multi-door courthouse — the idea that a courthouse ought to have different options for people to resolve their disputes. As mediation became more established, parties and the courts saw the value in having the benefit of a neutral third party assist in resolving disputes. The statistics vary from mediator to mediator, from state to state, but generally speaking, the statistics tell us that most cases that go through a mediation process get resolved. So that has great benefit and value to our court system by reducing the number of cases that actually go to trial.
With those trends, how important is it now for law students to learn about alternative dispute resolution?
It's critical, because the students, when they get out of school, are going to represent parties in arbitration, they are going to represent parties in mediation. So understanding the process of litigation is important, and that still is really the main focus of legal education. The courses in arbitration and mediation are voluntary. I happen to think they should be mandatory. But a significant part of a lawyer's practice, particularly if they go into a litigation practice as opposed to a transactional practice, is going to involve representing clients in arbitration or mediation. And even law students who go into corporate work or transactional work, they will have to understand these processes because they will be drafting documents that litigators will have to live with. So whether you're in litigation or in a transactional practice, understanding arbitration mediation is very important.
At the start of each class, what is it that you hope to accomplish?
Well, I don't think it sounds very exotic, but certainly we want to make sure the students come away from the class with a basic understanding of how these processes will fit into their practice and to have a working understanding of the key issues and the key legal principles.

Another point that I hope comes through in my classes is that the value in civility as a part of the practice of law is something that we often overlook. I'm not sure that is often taught sufficiently in law school. So I hope that students come away from my classes at least appreciating the idea that it is possible to resolve conflict with an adversary in a way that is not offensive, that's not argumentative, and that, indeed, the skill in handling disputes in a respectful, civil way is something that will pay off in terms of how cases can get resolved fairly.
Do you think the lessons of civility between adversaries and resolving disputes could carry over beyond the legal world, perhaps to politics?
Well, we can only hope. [chuckling]

Of course, many lawyers go into politics, so we can only hope that students come away from their legal education appreciating the value of civil discourse, and that they will carry those values and skills into their daily life, and other aspects of their professional career.
You've been at ASU Law for several decades and seen some dramatic transformation. What makes it such a special law school?
I think the effort of our administration has been remarkable in terms of elevating our stature within not only the legal community here in Phoenix and Arizona, but nationally — in particular, our Dispute Resolution program is ranked among the top 10 such programs around the country. And I think the students certainly benefit when they graduate from a program that is highly regarded. That certainly adds value to their degree. So I think we need to recognize and compliment our dean and the other members of the law school administration for the efforts that they have made in having our school and, in particular, our Dispute Resolution program, so highly regarded.
What's one of your proudest career accomplishments?
When I graduated law school [Meyerson is a graduate of Georgetown University Law Center], I came back to Arizona. This was 1972. And for two years, I represented the United Farm Workers union. But my interest in going to law school and my interest in coming back to Arizona was to go into public interest law. So in 1974, with the help of more senior lawyers, more established lawyers here in Arizona — I guess I was 27 at the time — I became the first employee and the founding employee of the Arizona Center for Law In the Public Interest, which continues to this day as an important institution in our community. So my work as a public interest lawyer — which involved arguing the case in the U.S. Supreme Court, filing two other cases that ultimately went to the U.S. Supreme Court and engaging in matters that I felt had a real benefit to the public — that part of my career was certainly very rewarding and perhaps the most rewarding.
What's your most important advice to future legal professionals?
I think there are a number of things that make for a successful lawyer. Certainly, I think it's assumed that people will be capable and competent. And so we certainly treat that as a given. But if I think about my career, and why I think I have had — at least hopefully have had — a good reputation in our legal community and I think it goes back to this idea of civility and respect. We're in a profession that deals with conflict, so the ability to work collaboratively and constructively toward solutions is something that is very valuable, very important. And I think lawyers who practice those kinds of skills will be successful in their career.
What do you like to do in your free time? What should people know about you?
Well, I have two children. They're adults, but one is married and we have a granddaughter and they both live here. All of them live here in Phoenix, and our granddaughter is a little over 2 years old, and she is a real delight. We love spending time with her.

In terms of other activities, I enjoy playing tennis, and try to do that as much as I can without interfering with my work, or hopefully my work doesn't interfere with my tennis. [laughs] So that's really what I am passionate about in terms of getting out and getting exercise.

My wife, who has been supportive of me through every job and the work that I've had, is a lawyer here at Lewis and Roca. We love to travel and do things together. So I think that's sort of my world.
---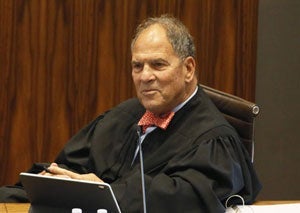 Andrew Hurwitz
United States Circuit Judge
United States Court of Appeals for the Ninth Circuit
Where are you from?
I was born in New York City but grew up in northern New Jersey. My family moved to a small town in northern New Jersey called Boonton when I was 3 years old. My father opened a men's clothing store there, and that's where I grew up.
How did you wind up in Arizona?
It was some serendipity. While I was a second-year law student, a couple of my friends decided it would be fun to take summer clerkships in Arizona and see the West. And I did. I worked during the summer of 1970 or 1971 at the Lewis and Roca firm and enjoyed myself and enjoyed Phoenix.
But I didn't want to practice in a large firm, so I sort of put that thought aside until I was later clerking at the U.S. Supreme Court, and one of my co-clerks (H. Bartow Farr, an ASU Law alumnus) who was clerking for Justice Rehnquist was going to come back to Phoenix to work for this little firm that had just started. He was very complimentary about the firm, so I got in touch with him, one thing led to another and we decided at the end of the clerkship – my wife and I, and my 3-year-old son and another son on the way – that we would all come to Phoenix and see what practicing law would be like at this little firm. And Larry Hammond, who's another longtime adjunct at the law school, came out at the same time. We joined this firm (Martori, Meyer Hendricks & Victor) and that's how we got here, and things turned out as good as we hoped.
You have mentioned that you first became an adjunct in the 1970s by reaching out to ASU Law's founding dean, Willard Pedrick. You already had a busy legal career — what drove your interest in teaching?
I admired the folks who had taught me in school, and I retained an interest in the academic side of the equation. I was still early enough in my career that I had in the back of my mind that maybe teaching would be something I'd like to do in the long run. So several of us at that firm, which was chock full of ex-Supreme Court clerks, had reached out to the law school a couple times. And when we first arrived here, nobody knew who we were, which I understood.
So it took a couple of years of asking before the school eventually invited us to teach a professional responsibility course. Either Randy Nelson or Larry Hammond taught it with me, and I think I've now been teaching at the law school longer than anybody who's still teaching.
What's your favorite subject to teach?
If I had no other responsibilities in my life, I would always want to teach first-year students Civil Procedure. I like teaching first-year students. They're excited and earnest. It's brand-new stuff. It requires a new way of thinking for them. And if you teach a first-year class and it goes well, you can almost see the light bulbs popping up over people's heads as they begin to understand concepts and get comfortable with this notion of being a lawyer and thinking like a lawyer. It also lets me meet students who are going to be at the law school for the next few years, and there are lots of opportunities to interact with them.
In terms of just doctrine, I really like the Federal Courts class we teach. It's an intellectual feast. You can choose among a series of really interesting topics. And when you teach the second- and third-year students, and because this is a hard class, we tend to get really terrific students in it. So the interchange is a lot of fun.
What's your philosophy as a teacher, in terms of what you hope to accomplish in each class?
There are the obvious things, and there are the less obvious things.
The obvious thing is you want the students to learn the material, to learn the doctrine. But that's sort of a given. And my guess is, in a lot of cases that could be done if they just read it at home. Particularly the most able students.
So my real goal in teaching, and the one I hope I achieve, is to make people think, to make people ask the right questions. And sometimes it's not clear what the right answer is. But you'll never arrive at the right answer unless you have the right sort of decision tree — asking the right questions, noting the problems.
And I also hope — because I practiced for so long — when we look at cases, to make people think about what the lawyers were doing, not just what the judges were doing. So much of law school is aimed at figuring out what the judges are saying in decisions. And one of the fascinating things about looking at important cases and looking at cases over time is to try to figure out what the lawyers were doing. Why were they doing it this way? Could they have done it a different way? What was going on at the time that led them to make these decisions? And then you can get into what was going on at the time that might have led the court to make the decisions these ways. So having them think, not just as analyzers of judicial decisions, but as participants in the process, is something I hope I do.
Is there a teacher who inspired you to want to teach, or serve as a role model?
You know, I think in everything we do, we reflect a combination of our teachers. And interestingly enough, my role model, if I have one, was not a law school professor but an undergraduate professor named Jim Doig at Princeton. He just passed away, and I was in contact with him for the 50 years since I graduated college.
He was the kind of guy who taught us that asking the right questions was really the hallmark of your education. That when problems were difficult, answers weren't easy, and therefore you had to ask the right questions and try to arrive at the right solutions. He taught public policy and he taught a little bit of law, but his method of dealing with students — sort of questioning, pushing, interchanging, not announcing the correct answer — strikes me as a model I'd like to achieve. I'm not sure I do it as well as he did.
What makes ASU Law such a special place?
To start out with, there's an enormous geographic advantage. ASU is the only law school in the fifth-biggest city in the country. That's quite unique. I don't think there's any other city of this size that doesn't have at least several law schools in it.
And it's part of Arizona State University, which I've got a great fondness for. I was on the Board of Regents for eight years. It's a university that has grown from a good regional university to a great national university. And so those structural advantages for ASU are quite large.
ASU Law has a really good faculty. There is this dedication to the notion of the teaching part of the mission. In all higher education, the faculty has a number of responsibilities. They have research, they have community outreach, they have internal administration and service, and they have teaching. And my sense is that there has always been excellent teaching at ASU Law. When students ask me about which courses they should take, I'm able to direct them to really good teachers.
Another advantage ASU Law has, and it's related to the first one, is that it has access to an incredible legal community. So it can bring in people to teach courses on sentencing. It can bring in somebody like Jon Sands, the federal public defender who works in that arena every day. Or bring in the county attorney to talk about victims' rights. Or bring in somebody in a specialty that may have become hot — construction law, for example — which isn't the traditional area of focus for the law schools. So the students can pick up education in certain fields that they might not be able to pick up if the law school were located in the middle of a rural state, where there isn't a big legal community right next to it to jump in and be adjuncts. And the adjuncts, if you look at what they do in the rest of their lives, are really quite good. And unlike many really good law schools, ASU has not developed the attitude that they're not going to have adjuncts teach. They encourage us, and I think that's a good thing.
What's your most important advice to future legal professionals?
Be flexible. Opportunities will arise if you do good work in whatever you start at. So don't plan out your entire career while you're a law student. Be flexible, and particularly be flexible and open to opportunities for public service. The job you take when you leave law school may end up being the job you practice in forever, but it's quite unlikely. So do the best job wherever you are, then keep your eyes open for other opportunities and to be of service.