Hiring high quality, effective personnel is critical to the success of every organization. Only trained professionals understand the complex legal and regulatory framework that impacts the recruitment, hiring, maintenance, promotion, and firing of employees and independent contractors. The emphasis in Employment Law will allow professionals to identify and solve the critical problems facing organizations on a daily basis.
Students graduating with an MLS with an emphasis in HR and Employment Law have opportunities in careers such as:
Ombudsman
HR leadership
Company vice president
Hiring manager
Labor advocate
Head hunter
Small Business Owner
To learn more, visit the MLS degree home page, contact us, request information, or attend one of ASU Law's many webinars.
---
MLS becomes fully aligned with SHRM Guidelines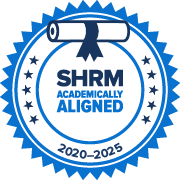 The Society of Human Resources Management (SHRM), a premier HR professional organization with 300,000+ members nationwide and globally, has recognized ASU Law as the first law school that is fully aligned with the SHRM Curriculum Guidelines. This alignment provides MLS students enrolled with an emphasis in HR and Employment Law the opportunity to apply for the SHRM Certification Professional (SHRM-CP) exam. Achieving this certification is an important distinction that many employers recognize in hiring and promoting HR and employment law professionals.
Current and future students who complete an emphasis in HR and Employment Law may be eligible for the SHRM certification exam with experiential hours. Students must have a minimum of 500 hours of relevant experience to apply for the SHRM-CP exam. Students who already have SHRM certification will receive Continuing Education credit for the courses they have or will complete.