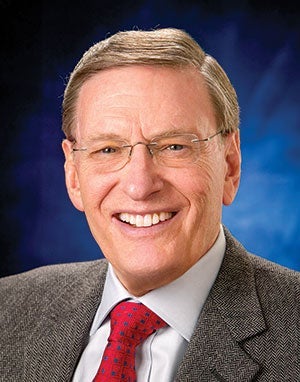 Allan "Bud" Selig Scholars Program
As the Distinguished Professor of Sports in America at the Sandra Day O'Connor College of Law, Major League Baseball's Commissioner Emeritus Allan "Bud" Selig brings a wealth of knowledge and experience to the Sports Law and Business program. A historian with the rare distinction of having written history prior to teaching it, Commissioner Selig is now able to share his life and achievements with our students, faculty, and the entire Arizona State University community. The former Commissioner revolutionized professional team sports with a uniquely cooperative method of rule, advocating and implementing global change in the areas of diversity, community outreach, revenue sharing and the economics of professional sports, labor relations, and far more.
Commissioner Selig and the Sports Law and Business Program select one MSLB candidate and one JD candidate each academic year to be awarded the Allan "Bud" Selig Scholarship. This scholarship is given to candidates that demonstrate exceptional academic achievement and true passion for the societal impact of sports.
Selig Scholarship recipients will be awarded $5,000.00, to be received in equal installments each semester. The Selig Scholar recipient will also have a student research work requirement that is tied to the scholarship award. Students will work with the SLB team and Commissioner Selig to fulfill this research work requirement.
---
In order to apply and be considered for the 2023-24 Allan "Bud" Selig Scholarship, applicants must meet the following qualifications:
Must be a current or incoming MSLB student or a current or incoming JD student.

Incoming MSLB students must reconfirm their admittance into the program before applying.

Must agree to the research work requirement.
Must submit a full and complete application.

Application requirements will be sent out to admitted MSLB and JD students.
The application for the 2023-24 Selig Scholarship will be sent to admitted students in late Spring by the Director of the Sports Law and Business Program. For any questions about the Selig Scholarship, please email mslbasu@asu.edu.