International Law
A global perspective and cross-cultural skills are becoming increasingly important to be effective leaders in law and policy. The Sandra Day O'Connor College of Law at Arizona State University is ranked #25 for International Law by US News & World Report, 2024.
ASU Law offers students opportunities to cultivate their global perspective that include academic programs, courses with top international law scholars, externships, and study and work in Washington, D.C. and abroad. Graduates apply what they have learned in international law to a range of jobs related to policymaking, business, criminal justice, economic development, and human rights.
---
Centers and Programs
International Rule of Law and Security Program
The IRLS Program is an academic and experiential learning program that is designed to prepare students for jobs that promote justice, human rights, sustainable economic development, and equality under the law across the globe. Through coursework and externship placements, students who participate in this program will gain knowledge in the roles of governments, multilateral institutions, international financial institutions, and international and local non-governmental organizations (NGOs) in advancing the rule of law to promote security, stability, and sustainable economic growth. Our expert faculty advise governments, multilateral institutions, universities, and leading NGOs on reforming laws, improving legal education systems, and training critical actors in the legal system to help develop transparent legal systems to which citizens from all backgrounds have equal access.
IRLS is based in Washington, D.C. and was developed in partnership with the McCain Institute for International Leadership.
Schiefelbein Global Dispute Resolution Program
The Schiefelbein Global Dispute Resolution Program, housed within the Lodestar Dispute Resolution Center, focuses on the various methods that international disputes, both in issues of private and public law, are resolved. Each year the Schiefelbein Program hosts the Schiefelbein Global Dispute Resolution Conference to expose both practitioners and students to the dynamic methods in which international business resolves disputes. Additionally, the Program awards the Schiefelbein Scholarship to a deserving student interested in international global dispute resolution.
The Center for Law and Global Affairs
The Center for Law and Global Affairs (LGA) is the hub for everything international at ASU Law. Created in 2008, it provides opportunities for students to cultivate their global perspective in a variety of ways, ranging from courses with top international law scholars to participation in international projects to study and work abroad. LGA also hosts discussions exploring legal aspects of current world events and brings in practitioners from law firms, government entities, and international organizations to share tips on pursuing international careers in law and policy.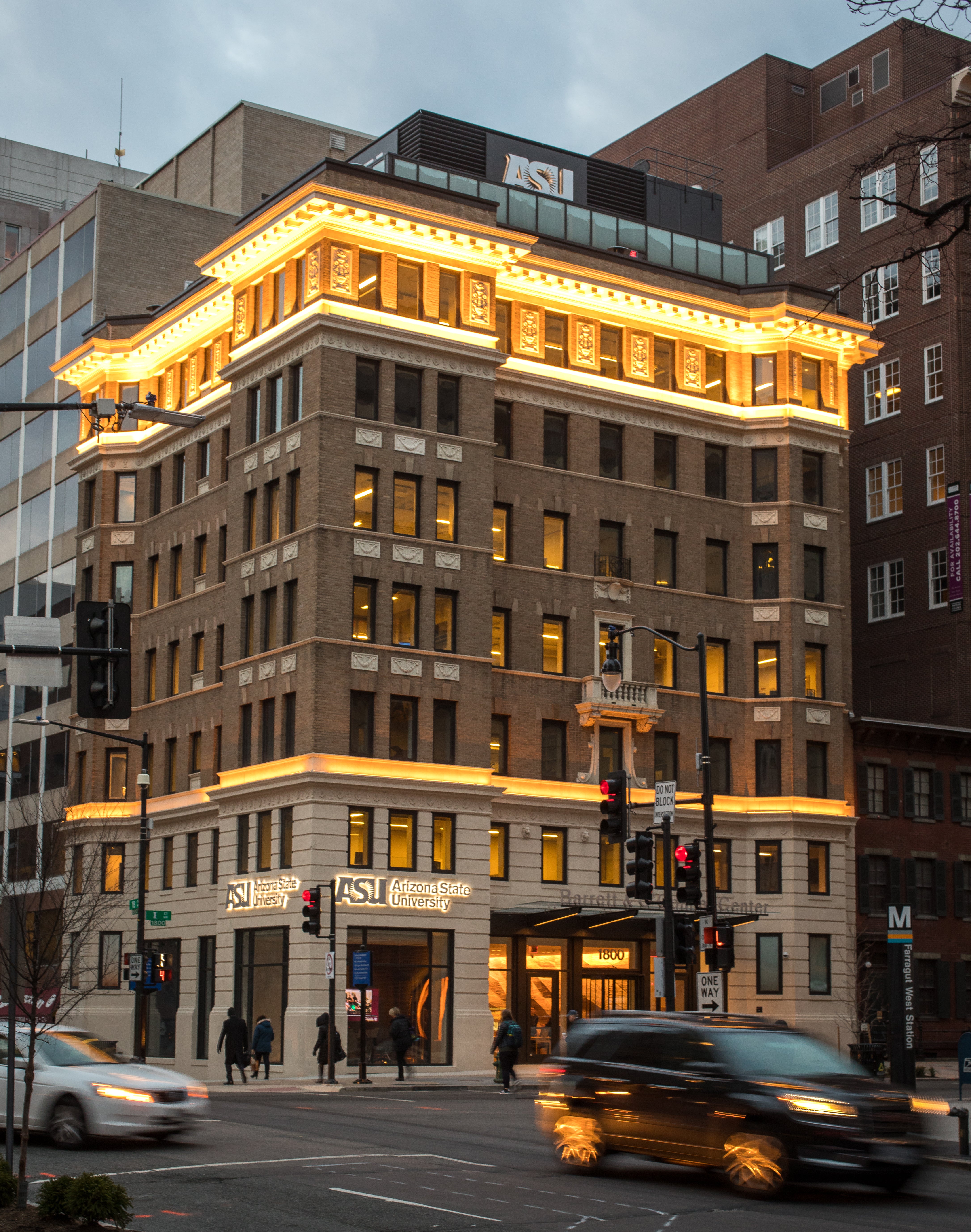 Externships
Students that participate in externships gain practical experience that makes them more competitive for jobs at home and abroad. ASU Law can place every eligible enrolled student into an externship, and options include organizations in Arizona, Los Angeles, or Washington, D.C. such as the U.S. State Department, World Bank, International Rescue Committee, Department of Homeland Security, and Human Rights First. The opportunity for students to network with international decision-makers, opinion leaders, and top practitioners is further amplified through ASU's large D.C. presence.
Student opportunities
Student groups
ASU Law is home to robust student organizations actively engaged in international law and policy issues. The International Law Society and others create opportunities for students to explore international law issues, host and attend events, and network with expert faculty and practitioners.
Community involvement
Students can engage with globally minded leaders in the legal, government, and business communities to develop professionally. For instance, the Phoenix Committee on Foreign Relations hosts events and other forums for select students to engage with prominent leaders and practitioners on trending international issues. And each year ASU Law holds a workshop with the American Red Cross on international humanitarian law that brings students, members of the military, and community leaders together to learn more about the principles governing armed conflict.
Expertise
ASU Law has a number of faculty and practitioners with significant experience working with International Law.
International Environmental Law
Charles J. Merriam Distinguished Professor of Law
International Environmental Law
Associate Dean for International Engagement
Professor of Law
Professor of Law
Julia Fromholz
Professor of Practice
Professor of Law
Professor of Public Health Law and Ethics
Professor of Law
Water Law
Amelia D. Lewis Professor of Constitutional & Criminal Law
Associate Professor of Law
Dean Emeritus and Professor of Law