Why ASU Law
#1
Law School in AZ
since 2010
-U.S. News & World Report
-2022 U.S. News & World Report
Ahead of University of Iowa, University of Illinois at Urbana, University of California - Irvine, William and Mary
-2022 U.S. News & World Report
Ahead of George Washington University, Emory University, Boston College, Fordham University
Fall 2021
Demographic Snapshot

40
States represented
130+
Institutions represented
Academic year 2021 - 2022
153
Enrolled MLS
online
students
Demographic Snapshot

38
States represented
121
Institutions represented
Fall 2021
Demographic Snapshot

26
States represented
43
Institutions represented
Academic year 2021 - 2022
Demographic Snapshot

1
States represented
1
Institutions represented
100%
Women and non-binary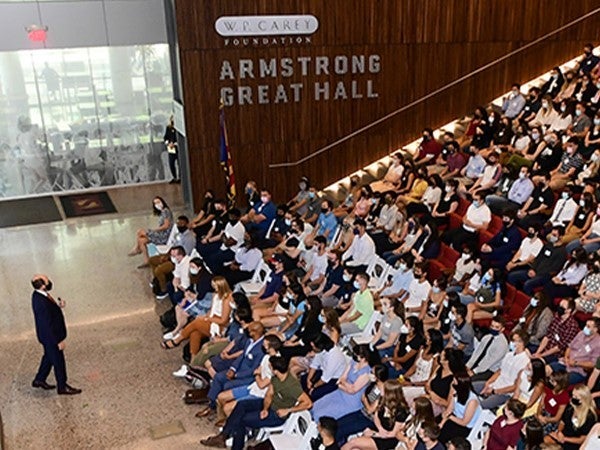 Incoming 2021 class profile
ASU Law welcomes largest, most diverse and highest credentialed class in its history
Continuing its streak, ASU Law welcomes its most highly credentialed class for the fourth year in a row. The incoming fall 2021 Juris Doctor students have a median LSAT score of 166 and a median GPA of 3.85, ASU Law's strongest ever. It is also the largest class in school history, with over 300 first-year JD students attending this fall.
ASU Law also set a record for the fourth year in a row for the number of JD applications it received — more than 5,700, up over 20% from last year. Applications to ASU Law's JD program have tripled in the past five years.
Read more
See the sights of downtown Phoenix in this quick tour through the city's center
Nightlife in downtown Phoenix runs the gamut from sophisticated to historical to hipster. This video introduces you to some of the nightlife options available in Phoenix's urban heart.
There are places in Arizona that defy the senses, daring you to believe the impossible. See the wonder of Arizona.