Corporate and Healthcare Compliance
Corporate and Healthcare Compliance: MLS online
Companies across a spectrum of industries – insurance, banking, healthcare – deal with a complex web of laws and regulations that impact how they do business. In response, these companies are forming and growing large compliance departments to ensure that obligations under the laws and regulations are being met by the organization.
Compliance departments are charged with interpreting the laws and regulations that impact a business, creating policies and processes to ensure the organization adheres to these standards, and designing and implementing reporting mechanisms to track the data necessary for the company to show regulatory bodies that this function is taken seriously.
Not surprisingly, compliance-related jobs are currently one of the hottest job growth areas in the U.S. ASU Law's Online Master of Legal Studies (MLS) degree with an emphasis in corporate and healthcare compliance is designed to help pivot their career to a compliance-related area or compliance professionals looking to take their careers to a new level.
---
Coursework
Earn an online master's degree to propel your compliance career in as little as one year. Hiring companies that are not requiring an attorney to practice law but are still looking for people with an understanding of compliance law to help their companies adhere to policy are in demand.
In order to be admitted to the MLS program, you must have completed a bachelor's degree from an accredited four-year college or university in the United States or attained a comparable degree from a foreign institution. Graduate school entrance exams (e.g. LSAT, GRE, GMAT) are NOT required.
The ASU Law curriculum is designed to ensure courses cover the skills and subjects most coveted by employers. Students will be immersed in an array of relevant subjects, including:
The regulatory environment
Interpretation of regulations
Creating and implementing compliance processes and programs
Fact investigation
Risk assessment and management
Data security and privacy
Specialized compliance issues in the financial or medical industries
Ethics and integrity
Verbal and written communication
---
Questions
Please contact us at MLSASU@asu.edu or call us at 480-965-1474.
---
Compliance Certification Board (CCB) Accreditation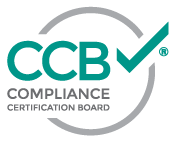 The Compliance Certification Board (CCB) has approved accreditation for ASU Law's MLS Corporate and Healthcare Compliance program. The CCB is the premier compliance professional organization made up of compliance and ethics professionals from around the world.
This accreditation provides students who graduate with this emphasis the ability to enhance their credibility with organizations, peers and strengthen the credibility of their compliance programs they develop, implement, and maintain.
This accreditation also provides:
Eligibility for various CCB certification exams (CHC, CHPC, CHRC, CCEP, and/or CCEP-I exams) within 2 years of graduation.
Current students with an existing CCB accreditation(s) continuing education credit for such accreditation(s) for up to one-year after graduation.
Thousands of people actively hold at least one of CCB's compliance and ethics professional certifications, including an international certification for individuals who work outside the United States or those who have international affiliates.