Online Programs
Earn your degree online with the Sandra Day O'Connor College of Law
The Sandra Day O'Connor College of Law at Arizona State University is one of the country's preeminent law schools with a wide array of emphases and unique experiences. Our master's level programs are for individuals who want to expand their knowledge of the U.S. legal system and business environment -- without becoming a lawyer.
No prior legal training is needed, and our world-class faculty provides students with unparalleled opportunities to gain insights and necessary practical skills to address legal challenges on a global scale. Earning your degree with ASU Law online provides you with the flexibility to meet you where you are in your life and career.
Learn more about the caliber and excellence ASU Law is dedicated to in serving students.
What are the benefits of an online master's degree with ASU Law?
Aside from learning on your own time, working with the flexibility of your schedule and responsibilities, our students learn with some of the top-ranked experts in their fields. With our flexible start dates across fall, spring, and summer, full-time and part-time options, fast application process, and no entrance exam required, we meet you where you are in your career and life.
Applicable to nearly all career paths, ranging from Corporate and Heathcare Compliance, Criminal Law, Business Law, and everything in between, you will gain a competitive edge in your career to add value to your place of employment.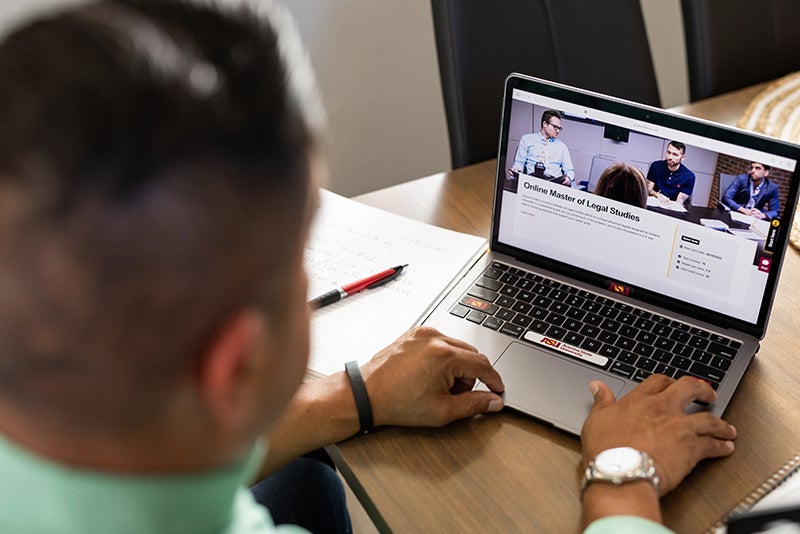 Why ASU Law?
ASU Law is a highly-ranked and highly respected public law school dedicated to educating the next generation of legal professionals. In honor of its namesake Justice Sandra Day O'Connor, ASU Law graduates are prepared to shape the legal field, both in and out of the courtroom.
The highest-ranked law school in Arizona and the No. 12 public law school in the U.S., ASU Law is proven to train skilled lawyers and leaders. The school abides by the ASU charter and is measured not by whom it excludes, but by whom it includes. That philosophy is incorporated into everything ASU Law does.
Master of Legal Studies degree emphases
Why should you select an emphasis?
As a student of ASU Law, you have the opportunity to customize your degree to your area of interest. Take advantage of popular emphases listed below to fit your interests and career goals. Learn to master legal principles in a variety of fields and be well-prepared to thrive within an evolving legal landscape across a variety of industries.
---
International students
ASU Law is a top-ranked law school in the U.S. and our master's level degree programs are ideal for anyone in the world looking to learn about the country's legal and business systems. No prior legal training is necessary for applicants interested in learning the law.
Heather Ashworth, Master of Legal Studies graduate
"When I started researching MLS programs, I was thrilled to discover the program was offered at ASU. While there are many options, especially now with online programs, ASU had everything I was looking for. Not only is ASU Law one of the top schools in the country, but the program also offered the core focus I was looking for and the flexibility I needed. You can finish the program at the pace that is right for you, one class at a time, or double up and finish in a year."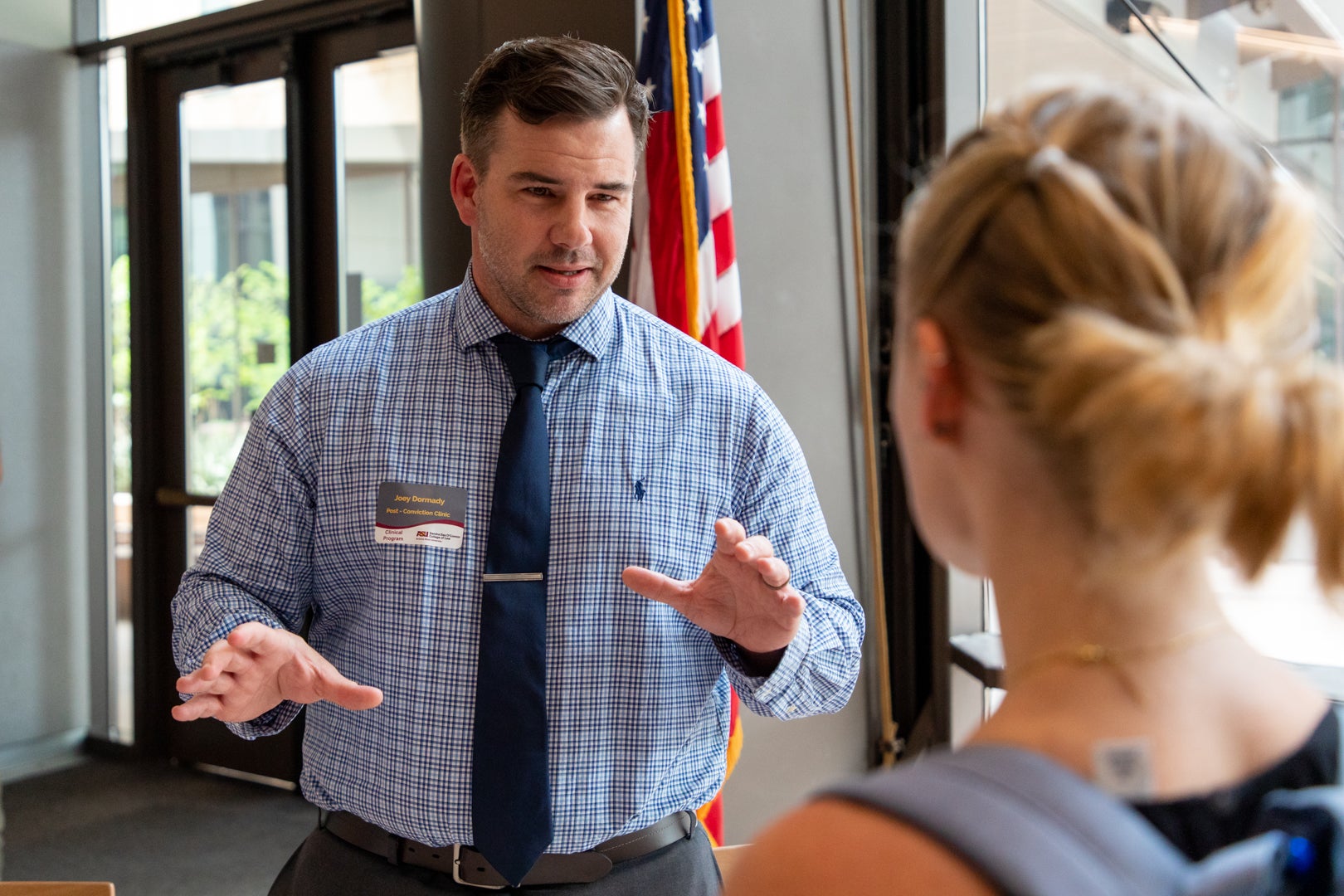 Faculty overview
Joey Dormady is leading ASU Law's efforts in new graduate legal education initiatives, including expanding online learning and online programs, as Assistant Dean of Graduate Programs and New Education Initiatives. Robert is an alum of Arizona State University's Sandra Day O'Connor College of Law (ASU Law), and teaches several courses in the online Master of Legal Studies program. He was hired by ASU Law as a clinical faculty associate shortly after his graduation in 2014 where he continues to be an attorney/instructor with ASU Law's Post-Conviction Clinic. Mr. Dormady has spent his legal career investigating and litigating claims of wrongful conviction and manifest injustice on behalf of prisoners convicted of crimes in Arizona. Mr. Dormady is licensed to practice law in Arizona.
Joel Friedman joined the Arizona State University Sandra Day O'Connor College of Law in the Fall of 2022. He graduated from Yale Law School in 1975 and completed a one-year federal district court clerkship in Los Angeles. He is a nationally known expert in the field of labor and employment discrimination law and has lectured widely on a variety of labor and employment law topics as well as on the subject of the use of developing technologies in legal research, teaching and publication.