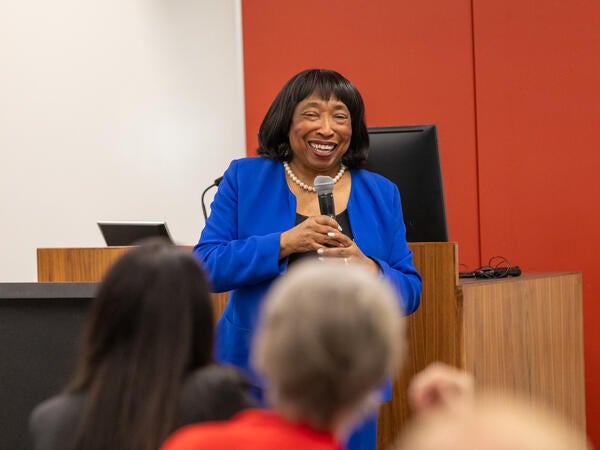 November 16, 2023
Annual Morris Lecture challenges students to fill justice gap
Students, staff and faculty gathered on Nov. 13 at the Sandra Day O'Connor College of Law for the annual John P. Morris Memorial Lecture.
The lecture has been given in honor of Morris, who was the first—and, for many years, the only—African-American faculty member at ASU Law for nearly 20 years. The topic is always centered on diversity and inclusion efforts in the legal field around the U.S. and across the globe. This year's speaker was the Honorable Bernice B. Donald, who retired from the U.S. Court of Appeals for the Sixth Circuit earlier this year. She was the first African-American woman to serve as a judge on the court, just as she broke barriers on three previous courts she served on. She previously co-taught a class at ASU Law as an associate professor.
Judge Donald's lecture, "The Rule of Law Through the Lens of Culture and Class," addressed failures in the U.S. justice system to ensure everyone is treated equally under the law.
"The rule of law serves as the foundation of a civilized society," she said. "It ensures transparent and universally acceptable processes and ensures people are treated equally. Sometimes, we achieve it, but in the minds of some people, they will tell you that we don't."
According to Judge Donald, socioeconomic issues and cultural differences often lead to unfair outcomes in the courtroom. She spoke about a decades-old survey in which citizens of color did not believe they would always be treated to a fair trial. In recent years, the Pew Research Center replicated the survey among all U.S. ethnic groups and found that the results weren't any different years later.
"We that wear the black robes are supposed to ensure that justice is administered evenly and fairly to everyone," said Judge Donald. "It's an indictment not just on judges but on all of us.",
She told a personal anecdote about her first docket as a judge in Tennessee in 1982. She was the first African-American female judge in the state, and her courtroom had been staffed entirely with African-Americans. The first defendant to enter the room was a white man, who asked for a continuance and returned 30 days later with an African-American attorney. She later asked to bring in several white staffers to ensure diversity in her courtroom.
"He wanted to make sure he created a situation for himself to get justice that was fair and unbiased," Judge Donald said of the defendant. "All of us must be concerned that every citizen believes that they have gotten a fair outcome. The courts ought to reflect the diversity of the community."
Throughout her hour-long talk, the judge addressed implicit bias and the importance of professional diversity in the courtroom and offered students tips on how they can help fill the justice gap in our country.
"Embrace differences," Judge Donald encouraged. "Learn each other's stories. Branch out. What you're going to find is that all of us have more in common than divides us. Doing it in a nonjudgmental way helps us to break down barriers and be open to discussions. Be willing to be open to having uncomfortable conversations."
Written by Lindsay Walker