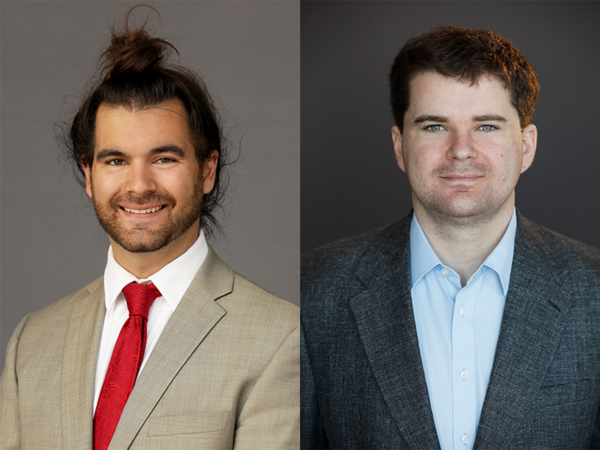 October 26, 2023
ASU Law alums earn prestigious tax law clerkships
Two graduates from the Sandra Day O'Connor College of Law at Arizona State University have the opportunity to fine-tune their tax skills as clerks with the U.S. Tax Court in Washington, D.C.
There are only 30 tax court clerkships in this specialized field of law. ASU Law boasts two members in the 2023 cohort: Michael Shaw and Michael O'Neill. Both graduated with their Juris Doctor (JD) degrees in 2022.
For Shaw, tax law was a natural next step after working at an Indiana education policy think tank for several years.
"Tax law tends to scare a lot of students off," he said. "It's not required in the curriculum, so no one has to take the classes, and it's not on the multistate bar exam. Students look it over. It's the single biggest expenditure in everyone's lives. Taxes fund virtually everything, and there's a general lack of knowledge or appreciation for them."
Shaw was a transfer student who worked full-time while attending law school and built a strong foundation for his life and career; he even met his now-wife at ASU Law.
"I feel like I learned from my classmates more than in other academic settings," he said of the community. "There were a fair amount of tax classes, but land use and zoning touch on tax issues too. For a school of its size, there are a lot of different classes you can supplement."
Shaw and O'Neill both credit Professor Erin Scharff, a tax law expert, with fostering their passion for tax law and encouraging them to seek out the clerkships they have now earned.
Before finding his way to law, O'Neill poured craft beer as a bartender, worked at a San Francisco tech company, and even taught English to students in South Korea.
"It was eye-opening to be part of a different culture where I didn't share an understanding of the alphabet or language," he said of his time abroad. "I think that's how people feel when they walk into the world of law. We're here to make the world comprehensible, and help clients know what matters and what doesn't."
After graduating from ASU Law last May, he pursued his Master of Laws (LLM) in tax law from the New York University School of Law, which he's now completed.
O'Neill said tax law drew him in because of the variety of career paths available. He hopes to one day work on the Joint Committee on Taxation, the specialized committee that advises Congress on tax policy.
"I took every class I could as soon as I was exposed to it," he said. "I like how often it changes and that it has a high impact on the individual, but also socially to the whole system."
He loved his time at ASU Law and praised the school's positive, supportive atmosphere. He also said the robust curriculum made earning his LLM much more feasible.
"During the LLM, everyone taking it right after JD is typically told to retake basic and corporate tax. I didn't need to do as much retaking," he said. "The classes at ASU Law made me feel so overprepared compared to my peers. They put me in such a good place moving forward."
Written by Lindsay Walker