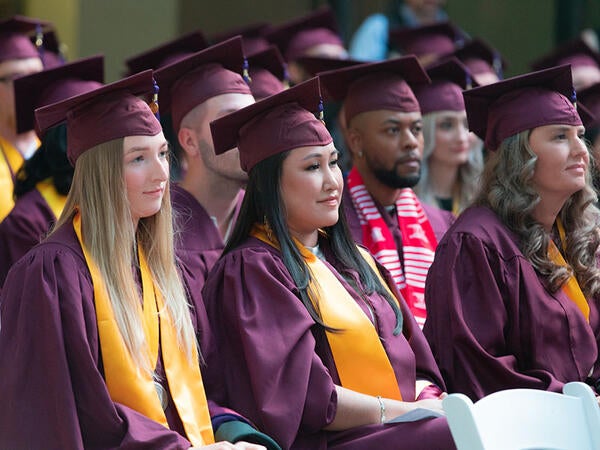 May 19, 2023
ASU Law honors outstanding Spring 2023 students
The Sandra Day O'Connor College of Law honored seven outstanding students ahead of Spring 2023 Commencement.
These students were chosen for this distinction by leaders in each degree program for their academic excellence, pro bono work and, in some cases, the unique paths they took to ASU Law.
Graduates from all degree programs offered at the law school were profiled for ASU News for their incredible achievements during their time at ASU Law.
Read their stories here:
Christina Grey, Master of Laws (LLM)
Master of Laws graduate infuses the law with STEM
Ben Kalahar, Master of Human Resources and Employment Law (MHREL)
Online ASU Law grad knows knowledge is power
Cassie Harvey, Master of Legal Studies (MLS)
ASU student is honored again as school's Outstanding Graduate
Trevor Goodwin, Master of Sports Law and Business (MSLB)
ASU sports law, business graduate learns importance of networking
Kristin Leaptrott, Juris Doctor (JD)
First-generation ASU Law grad finds home in Phoenix
Matthew Lutz, Juris Doctor (JD)
ASU Law graduate uses tech background to fuel new career
Heather Ashworth, Master of Legal Studies (MLS)
Legal interest leads to passion for justice for ASU Law grad
Written by Lindsay Walker