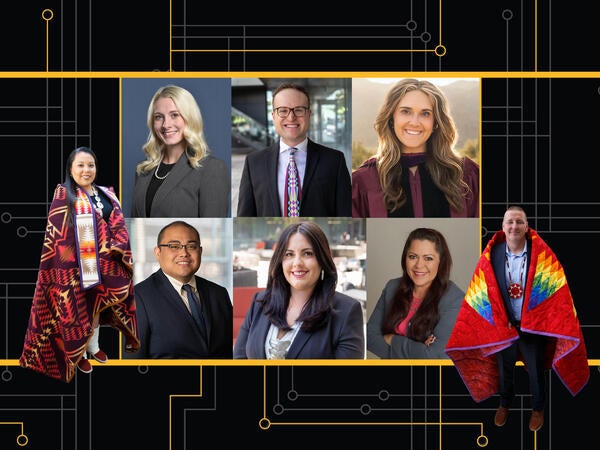 September 26, 2023
Fall Alumni News
Find out what some of ASU Law's alums are up to this fall.
Andrew Ching (JD '94) is the new Town Manager of Paradise Valley after serving as City Manager for Tempe for a decade.
Heather Ashworth, who graduated with her Master of Legal Studies in May, was profiled in Albuquerque Business First.
Chris Channell (JD '18) and Candace French (JD '17) were appointed to the Native American Bar Association of Arizona Board. Both participated in the Indian Legal Program.
Brigitte Finley Green (JD '89) joined Squire Patton Boggs as a public finance attorney for the benefit of nonprofit charter schools and health care facilities. She was most recently a shareholder at Engelman Berger.
Lillian Haley (JD '23) had her article "The European Union's Proposed Artificial Intelligence Regulation on Recruiting and Hiring Processes" published in the American Bar Association's The SciTech Lawyer.
E. Francis Brillantes Espiritu Jr. (JD '18) has joined Gust Rosenfeld, bringing expertise in litigation and a focus on medical malpractice defense with him.
Davis Graham & Stubbs in Denver announced in July that Christopher Dan (JD '18) has joined the firm's advocacy department as an associate. His practice focuses on product liability and commercial litigation.
Lewis Roca announced Jon Brinkman (JD '17) has joined the firm's Litigation Practice Group as an Associate in Phoenix. Brinkman's practice comprises a wide range of companies, from Fortune 500 companies to small, local businesses.
Torey Dolan (JD '19), an enrolled member of the Choctaw Nation, has been selected as the 2023 William H. Hastie Fellow. She is the first fellow from ASU Law, and the second woman who is a tribal citizen, to be selected for this prestigious honor. The first was Dean Stacy Leeds.
Quinne Daoust (JD '23) earned a prestigious Fulbright Scholarship. She will fly Israel this fall to study how they regulate and permit water desalination facilities in order to learn how to create more successful systems here in the U.S.
Alexander Mallory (JD '19) heads to Luxembourg this fall as a stagiaire, or clerk, for the European Court of Justice with Judge Paul Nihoul as part of the Dean Acheson Legal Stage Program, organized by the U.S. Embassy in Luxembourg. Mallory is one of 27 chosen for this international opportunity.
Written by Lindsay Walker