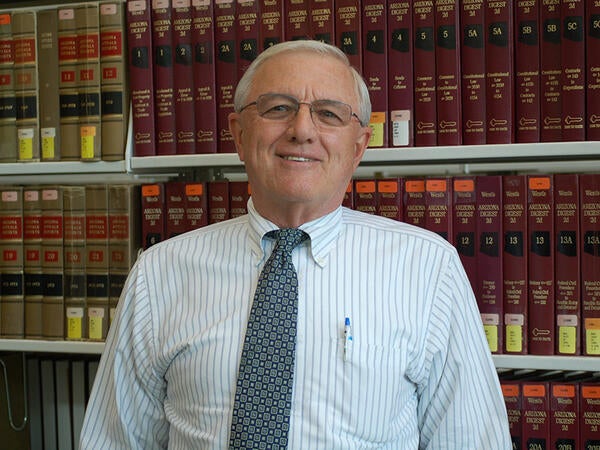 April 05, 2023
Hugo Zettler
1941 - 2023
The Sandra Day O'Connor College of Law mourns the passing of former adjunct professor Hugo Zettler.
Zettler taught at the law school as an adjunct faculty member and led the Criminal Practice Clinic from 1979 until the fall of 2014. A beloved teacher, he was awarded the Outstanding Faculty award by ASU Law in 1999 and the Professor Hugo Zettler Scholarship fund was established in his name in 2014.
"I knew Hugo both as a law student and as a colleague," said Jennifer Barnes, associate dean of experiential education and public interest. "While I was a student at the law school, Hugo was my professor in the Criminal Practice Clinic. He was a dedicated professor who taught me important trial skills and deep respect for the litigants and the courts. Public defenders used to say that Hugo was so respectful of the defendants he was prosecuting that many of them often shook his hand before leaving the courtroom. Years later, I worked with Hugo as a colleague at the law school. As the clinic director for many years, he taught hundreds, if not thousands, of students. He loved teaching and engaging his students in the ethical practice of law. I will miss his kind laugh and good heart."
Originally from East Orange, New Jersey, the Zettler family moved to Tempe in 1951. Zettler would remain there for most of his life. He graduated from Arizona State University before earning his juris doctor at the University of Arizona in 1969. He then went to work as a criminal prosecutor in the Maricopa County Attorney's Office, where he worked for 30 years. After a short-lived retirement, Zettler worked as a prosecutor for the City of Tempe before officially retiring at the age of 80.
"Hugo was an engaging teacher and well-regarded by our students for over 30 years," said Tom WIlliams, COO and senior assistant dean of administration and graduate programs. "The ASU Law community will miss him and we send our condolences to his family."
A celebration of life will be held on April 14 from 4 p.m. to 8 p.m. at Green Acres Mortuary & Cemetery in Scottsdale.
Details can be found here: https://www.dignitymemorial.com/obituaries/scottsdale-az/hugo-zettler-11221232
Written by Lindsay Walker