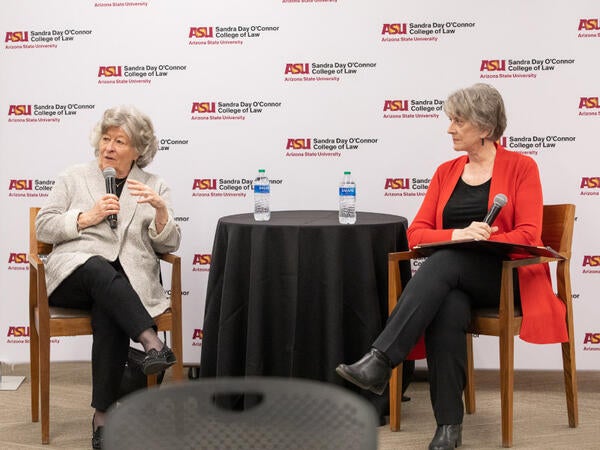 February 02, 2023
O'Connor Justice Prize winner urges law students to be open to opportunities
The Honorary Louise Arbour spoke with law students on Jan. 27
Students had the opportunity to hear from a legal giant when the Honorary Louise Arbour stopped by the Sandra Day O'Connor College of Law at Arizona State University on Jan. 27.
Arbour was visiting Phoenix from her home in Quebec to receive the O'Connor Justice Prize from the college. The award is given to people who have dedicated their careers to the rule of law and human rights. Previous beneficiaries include former President Jimmy Carter, former President of South Africa F.W. de Klerk and Anson Chan, former Chief Secretary of Hong Kong. An awards banquet was held the following day on Jan. 28.
Arbour's resume puts her on even footing with past winners. She previously served as a justice of the Supreme Court of Canada and high commissioner for human rights for the United Nations. More recently, she investigated sexual misconduct in the Canadian military.
During her time in Phoenix, she spoke directly with law students at a Q&A moderated by former Arizona Supreme Court Chief Justice Ruth V. McGregor.
"You're just so lucky," Arbour told the crowd. "You're entering a profession now with so much more training, tools at your disposal, technology that allows you to get to anything you want so quickly."
Arbour was often the first woman to hold many of the positions she's known for, despite occasionally feeling self-conscious about only having a formal education in French or having a civil law degree instead of a common law degree when she took the bench in Canada.
"Maybe I was just good," she joked. "We are not just one thing, we are a multiple combination of things."
She said her interest in human rights was initially triggered by the War Measures Act, which was enacted in Montreal in 1970 when she was in college. The act was in response to the growth of Front de libération du Québec, a separatist movement that evolved into domestic terrorism. The group eventually kidnapped and killed a Cabinet minister in an incident known as the October Crisis. Arbour said she watched as local fire stations were taken over by the Army and civil liberties were suppressed.
She called it "the root of my interest, to put it mildly, on all issues of power and abuse of power."
That interest led her to prosecute war crimes abroad. Arbour won the first conviction for genocide (Rwanda) and the first indictment for war crimes of a sitting president (former Yugoslavia) since the Nuremberg trials.
"It was no laboratory, it was extremely operational," she said of the international tribunals. "90% of it was investigation, not trials. No doctrine. We just had to invent it. What's the mens rea of genocide? This was really the most amazing work I've ever done."
Arbour also spoke about the challenges law students may face as they graduate and begin to grapple with a changing legal system. She warned of the "reality or perception" of the increased politicization of the judiciary and growing inequalities that lead to issues with access to justice.
She advised students to be active in their professional pursuits and strive to be someone people want to open doors for.
"I have accepted and jumped into things for which I have been unqualified," she said. "If you have that kind of appetite, I would just go for it. Opportunities come your way when people want to work with you."
Andrew Ford, a first-year law student, attended the chat and sat with Arbour for lunch ahead of the Q&A.
"It's rare to get the opportunity to hear someone with her accolades," he said. "Just how down to earth she is, it felt like talking to a professor, a family member or a friend."
Jacqueline Cochrane, a second-year student, said Arbour's words about the different chapters in her career resonated with her.
"I always like listening to female trailblazers," she said. "I'm super interested in how she transferred criminal law to the international stage. You never know where you're going to go."
Written by Lindsay Walker