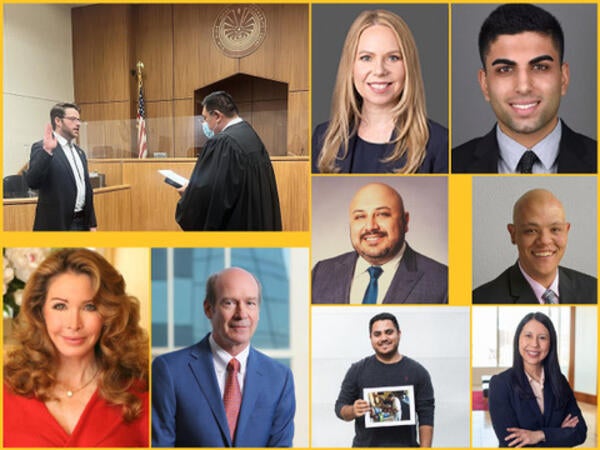 June 09, 2023
Summer Alumni News
Find out what some of ASU Law's alums are up to.
The Burton Awards have awarded the finest law school writers with the "Law360 Distinguished Legal Writing Award – Law School." The winners were chosen from nominations submitted by the nation's top 500 law schools. That includes recent ASU Law graduate Noah Goldenberg, who won for his paper "Indian Embryos as "Indian Children?" He will accept the award at a ceremony in Washington, D.C. on June 12.

Jessica Kenney Bonteque has joined Duane Morris LLP as a partner in the firm's Business Reorganization and Financial Restructuring Practice Group in its New York office. Bonteque is a graduate of ASU Law (JD '08), and she was a Pedrick Scholar.

Eliott Nazarian (JD '20) has left his job as an attorney advisor at the U.S. Department of Justice to work in a private immigration law practice in Los Angeles in order to offer help to those in need. He and his work were profiled in LA Weekly.

Sharon Ng (JD '07) was named one of the 23 most influential minority business leaders in Arizona by AZ Big Media.

Leigh Brecheen (JD '79) was named one of the top 100 attorneys in Hollywood by The Hollywood Reporter. Her famous clients include comedians Conan O'Brien and John Oliver.

Spencer Fane hired seasoned ethics attorney Scott Rhodes (JD '95) to join its litigation and dispute resolution team in Phoenix. He previously spent 27 years with Jennings, Strouss & Salmon, where he represented and counseled fellow attorneys and law firms.

Three alums – Jeremiah Chin, Will Knight and Nicholas Bustamante – were published in the April edition of Arizona Attorney Magazine.
Written by Lindsay Walker