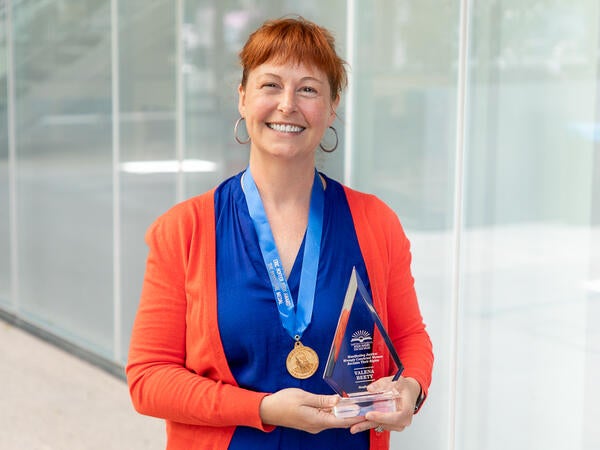 May 18, 2023
ASU Law professor wins 2 prestigious book awards
A 2022 book by a professor at the Sandra Day O'Connor College of Law at Arizona State University has earned two distinguished honors.
"Manifesting Justice: Wrongly Convicted Women Reclaim Their Rights" by Professor Valena Beety, senior research scholar for the Academy for Justice, won both the Montaigne Medal and the Sarton Nonfiction Award. The Montaigne Medal is awarded to books that provoke thought or progress. The Sarton Nonfiction Award is named for memoirist, novelist and poet May Sarton, and is awarded to stories that honor the lives of women and girls.
"The book identifies the unique ways that women and queer people are vulnerable to wrongful convictions, and it also highlights legal strategies for challenging these wrongful convictions," she said. "The book's overarching theme, in line with its name, is how legal claims of manifest injustice, or miscarriages of justice, can free these wrongly convicted individuals."
Beety said that winning these two awards is meaningful to her scholarship on wrongful convictions and incarceration – especially right now.
"Particularly in light of legislation against transgender men and women, the rise in hate crimes against LGBTQ+ individuals, and even bomb threats at libraries and bookstores that host Drag Story Hour, 'Manifesting Justice' calls out how queer people can be criminalized just for their identities," she said.
"Manifesting Justice," tells the true story of two gay women who were wrongfully accused of sexual assault against their friend after leaving a drug rehabilitation facility in rural Mississippi. Beety later represented the women, Leigh and Tami, as their attorney during her time with the Mississippi Innocence Project. Beety is also a queer woman.
Before joining the ASU Law faculty, Beety served as a law professor and the founding director of the West Virginia Innocence Project at the West Virginia University College of Law. Next, she will continue her work with the Academy for Justice at ASU Law and will serve as a professor of law at the Indiana University Maurer School of Law.
She's also working on a brand-new book about the Innocence Movement, how women have been a key part of it from the start and how innocence work can bring more needed attention to the bias that exists in our criminal legal system.
Beety's journey to help those wrongfully convicted or incarcerated was not always so smooth. She was working in what she thought was her dream job as a prosecutor to advocate for victims of sexual assault when she met someone who had been wrongfully convicted of sexual violence. It completely changed her career trajectory.
"My own career path has changed from prosecutor to defense attorney, from innocence post-conviction litigator to law professor, and I want students to know that their career paths will change, too," said Beety. "They can learn from each of their job experiences, and they can grow and change – that's not a bad thing. I hope my humility in my own journey helps them to have confidence as they take the next steps in their own trajectory after law school."
Written by Lindsay Walker