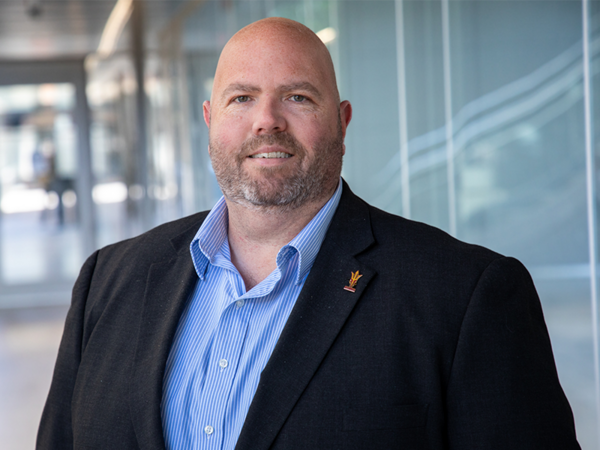 May 26, 2023
Eric Menkhus returns to the Innovation Advancement Clinic
After over a decade away, Eric Menkhus is returning to lead the Entrepreneurship and Small Business Clinic, formally named the Innovation Advancement Legal Clinic, at the Sandra Day O'Connor College of Law.
For the past decade, Menkhus has served as the associate dean of centers and programs at ASU Law and taught some online classes, but as of June 30, he will be a clinical professor of law and director of the Innovation Advancement Legal Clinic.
The clinic works with startups and early-stage companies to help them build a solid legal foundation as they get off the ground.
"My interest has always been at the intersection of law, science and technology," said Menkhus, who also previously served as associate dean of new education initiatives. "I scratched that itch for a while as dean while working with master's degree programs but I missed teaching, working with students and local startups. I'm excited to re-integrate with the entrepreneurial ecosystem in Arizona."
Students in the clinic work at least 20 hours per week with these real-world clients in return for six credits and invaluable work experience. Startups and early-stage companies often need assistance with non-disclosure agreements, intellectual property law, employment law, patent applications, contracts and leases for office space.
"Students often talk about how this has helped them in their career, either to start their own firms or hit the ground running when they're hired at one," he said.
Raees Mohamed and Jonathan Coury, faculty associates in the clinic, have led the charge since Menkhus took on his administrative role. Mohamed is co-founder and partner with RM Warner Law and Coury is a partner with Hool Coury Law. The two will remain on when Menkhus returns to help supervise student attorneys.
Menkhus said the clinic will also be expanding the number of students who can participate each semester from six to 10, allowing for more client work.
"I'm excited," he said. "I'm ready to expand the number of students involved and the number of clients that can be helped so we can add to the impact we have on the community."
Written by Lindsay Walker