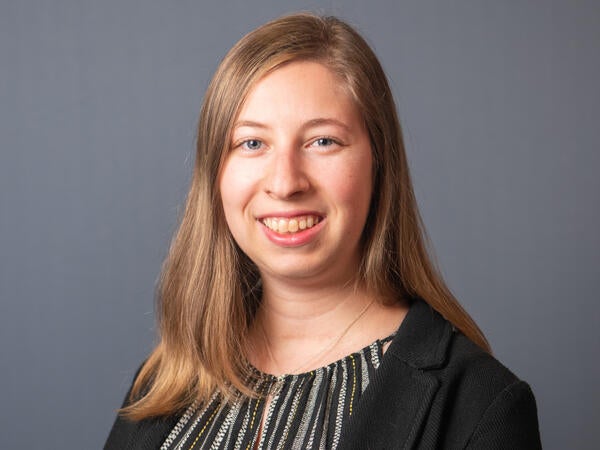 December 16, 2022
ASU Law Student Wins Prize for Best Intellectual Property Paper in the Country
ASU Law student Kelsey Weinman recently received the American Intellectual Property Law Association's 2022 Robert C. Watson Award for the best law student intellectual property article in the country. Ms. Weinman's winning paper is titled "No Free Lunch: Trademark and Copyright Problems for Money-GRUBbing Delivery Platforms."
AIPLA judges selected Weinman's paper because of its original and creative contributions to intellectual property knowledge and scholarship. As part of the award, Weinman received a trip to Washington, D.C., to receive the award at AIPLA's Annual Meeting in October. Following graduation, Weinman looks forward to joining the law firm of Knobbe Martens in Washington, DC.
"I am incredibly honored to have been selected as the winner of the Watson Award," Weinman said. "Prior to law school, I would have never dreamed of such an achievement. I wrote this paper with the goal of highlighting the damage suffered by small businesses when their intellectual property rights are disregarded by larger corporations. I hope these harms receive broader public attention in the coming years. I am extremely grateful for the mentorship and support I received from my faculty advisor, journal advisors, and family."
Weinman's faculty advisor, Prof. Jon Kappes, echoes these thoughts. "Kelsey's work is timely and important. Recently, suits have been filed against several delivery platforms, including Grubhub and Google, for online menu and ordering features provided without authorization from the restaurants themselves. These cases raise interesting and nuanced questions about whether and how unauthorized ordering and delivery platforms violate existing copyright and trademark laws. The paper also highlights several new state laws focused on the issue."
AIPLA is one of the world's largest and longest-term intellectual property law organizations. Its members include I.P. practitioners in private and corporate practice, government service, and academia working in patent, trademark, copyright, trade secret, and unfair competition law.
The Sandra Day O'Connor College of Law at Arizona State University is one of nineteen law schools to receive an A+ rating for Intellectual Property Law by National Jurist and is home to the renowned McCarthy Institute. The Institute's founder, Professor J. Thomas McCarthy, wrote the famed treatise McCarthy on Trademarks and Unfair Competition, which has been cited over 7000 times by Federal Courts, the single most cited legal treatise on any area of law.
ASU Law, the McCarthy Institute, and the U.S. Patent and Trademark Office are co-hosting a mini-Trade Secret Conference on December 9, 2022, at the Ritz Carlton in D.C. featuring keynote speaker Third Circuit Court of Appeals Judge Kent Jordan. In February 2023, ASU Law is hosting the Patent Trial and Appeal Board (PTAB) and the Trademark Trial and Appeal Board (TTAB) for live, on-campus trial hearings open to the public. Find out more about Intellectual Property at the Sandra Day O'Connor College of Law.